Come for Bible Study – Tuesday mornings at 10:00 in the office!  Please contact Pastor or the office to see what the study series is currently.
Please contact us with questions or for more information about all our Adult Education options!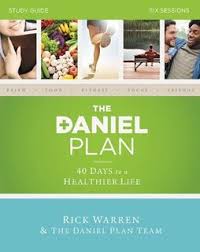 Adult Forum
Will begin October 9th
9:30am – 10:30am in the conference room.
THE DANIEL PLAN: 40 Days to a Healthier Life
By: Rick Warren D. Min., Daniel Amen M.D., Mark Hyman M.D.
Revolutionizing the concept of a healthy lifestyle. God designed our bodies to be healthy, providing everything we need to thrive and live abundantly and with assistance from medical and fitness experts, Pastor Rick Warren, and thousands of people from his congregation at Saddleback Church, started a journey to transform their lives. Feast on something bigger than a fad. This book is not about a new diet fad, nor is it a 'do it all now' approach. The Daniel Plan shows you how focusing on the powerful combination of the key essentials can change your life forever… one choice at a time.